PICCADILLY STATION, Manchester
Manchester Manchester M4, 2 MUNDAY STREET
de lujo
ref. no.: MAN-2B-4P
90superficie 3nº de hab. 4nº de personas 0camas individuales 1camas dobles
---
La duración mínima de la reserva durante el período elegido es de 7 días.
Un apartamento absolutamente impresionante con dos habitaciones dobles en el barrio New Islington. Un punto de vista desde todas las habitaciones. Aparcamiento seguro incluido. Milliners Wharf está situado en New Islington que es constante desarrollo . El desarrollo se basa en el histórico distrito de fabricación de sombreros de Manchester, de ahí el nombre Milliners Wharf. El apartamento , ha sido cuidado muy bien por el actual propietario y se ve como nuevo. Este apartamento está situado en el segundo piso y se beneficia de vistas. Abierto salón y cocina, que da a un balcón cubierto. También hay dos dormitorios dobles, el principal tiene armarios empotrados y un cuarto de baño. También hay un fantástico baño familiar.


Sala de estar
Piso de madera. Doble puertas de doble cristal que dan al balcón. Portero automatico. TV, teléfono y puntos de electricidad. Alli esta un balcón

Cocina
Recuadro fregadero con escurridor y grifo mezclador. Eléctrico horno / microondas. Incluye nevera, congelador y lavavajillas.
Dormitorio 1
Equipada armario doble con estanterías y espacio para colgar.. TV, teléfono y puntos de electricidad
Habitación con Ducha
Equipado con Villeroy & Boch sanitarios, WC y lavabo. Una ducha doble. El calentador de toallas montado en la pared .
Dormitorio 2
Una cama doble para dos personas. Calentador eléctrico. Teléfono y electricidad puntos.
Cuarto de baño
Equipado con Villeroy & Boch sanitarios , en la pared WC y lavabo. Baño con ducha eléctrica y pantalla de vidrio. Azulejos de altura completa. Calentador de toallas montado en la pared.
Equipamiento:
- Ropa de cama
- Toallas
- lavadora Hoover
- Microonda
- Cafetera Nespresso
- Nevera
- Congelador
- Plancha y tabla de planchar
- Cocina totalmente equipada (ollas, sartenes, cubiertos, etc ...)


Development - Located right on the canal side, in the heart of Manchester's historic hat making district, Milliners Wharf is a stylish new development . This is modern living at its very best, offering a rare combination of high quality urban apartments, waterfront lifestyle and city centre convenience. It is an inspirational, aspirational choice. A lifestyle opportunity, not to be missed. With its enviable canal side location in the heart of the regenerating area of New Islington, Milliners Wharf puts you at the hub of it all. You can take a short canal side stroll directly to Manchester city centre, in a matter of minutes. But then you already have so much on your doorstep. East Manchester is home to Manchester City football stadium, a bustling community on the banks of the city's Ashton Canal and the multi-venue Sport City, legacy of the hugely successful 2002 Commonwealth Games, which offers a multitude of leisure opportunities
Next door to Ancoats and still only minutes away from Manchester city centre, New Islington is a visionary scheme to develop not just a place to live but a real and vibrant community . The apartment is next to a tramstop which will take you to anywhere in the city within minutes.
Located near to the northern quarter but directly outside is a tram stop (ne Islington) which will take you anywhere in the city quickly. The property benefits from a secure underground parking space.
Located in a great newly developed area called New Islington next to the famous Manchester Canal and walking distance to the Best area in Manchester The Northern Quarter!
As the commercial and cultural capital of Lancashire, Manchester is a noted center for the arts, media, and higher education. Together with Salford and eight other municipalities it forms the metropolitan county of Greater Manchester, in which some 3 million people now live.
Like Liverpool, Manchester has undergone something of a modern day Renaissance with the introduction of initiatives such as the wide-ranging Castlefield project with its museum complex on Liverpool Road. The extension of the city's entertainment and sports facilities has considerably enhanced its attractiveness for tourists, and the city center has undergone extensive redevelopment. It has also become a favorite for shopping. An enormous range of retail opportunities including the elegant shops of St Anne's Square, King Street and Royal Exchange, and the large covered market halls of Bolton Arcade.
1 Castlefield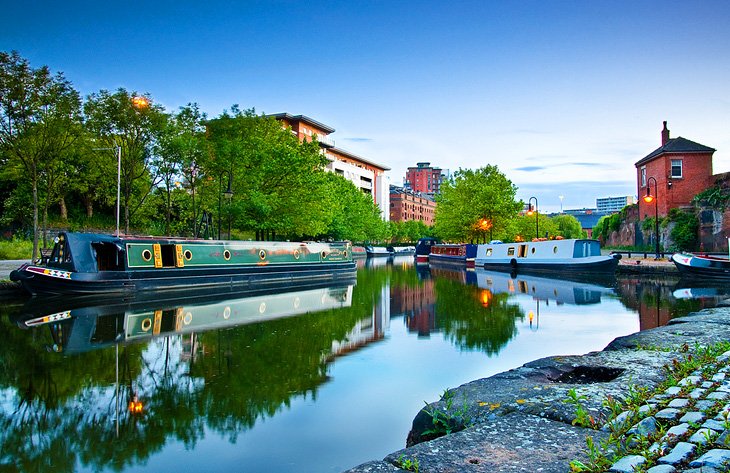 Designated an "Urban Heritage Park", Castlefield lies to the west of Deansgate Station and is an excellent place to begin exploring this great city. A walk among the lovingly restored Victorian houses, along the old canals or through the reconstructed Roman Fort is time well spent. Be sure to explore the Bridgewater Canal, constructed in 1761 to transport coal from the mines at Worsley to Manchester, and the many old warehouses that have been restored and turned into offices, shops, hotels and restaurants. (A trip on one of the Bridgewater tour boats is highly recommended.)
Other interesting attractions include the Castlefield Art Gallery with its exhibitions of contemporary art, and the Bridgewater Hall, home to the Hallé Orchestra and first-class concerts.
Location: Castlefield, Manchester
2 Museum of Science and Industry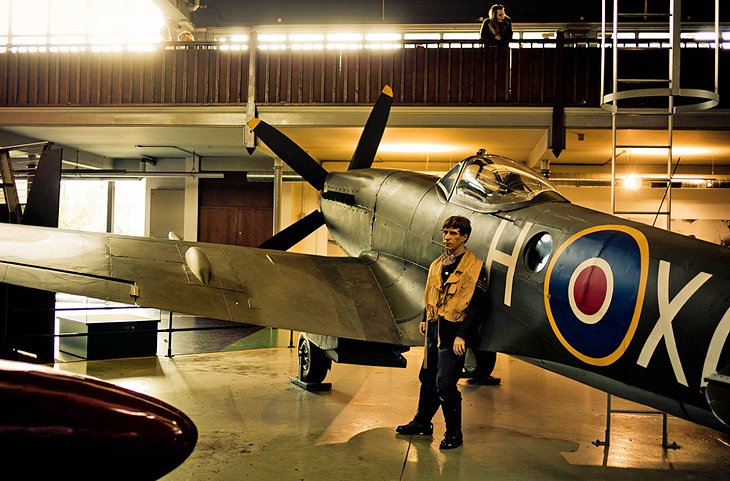 The Museum of Science and Industry (MOSI) is located on the site of the world's oldest railroad station. Its 12 galleries include the Power Hall with its water and steam-driven machines from the golden age of the textile industry, as well as vintage made-in-Manchester cars such as a 1904 Rolls Royce.
The history of the city from Roman times through the Industrial Revolution to the present day is documented in the Station Building. The Air and Space Gallery is another must-see and is home to numerous historic aircraft, including a replica of Triplane 1 by A. V. Roe, the first British plane to successfully fly.
Location: Liverpool Rd, Castlefield, Manchester
3 Manchester Cathedral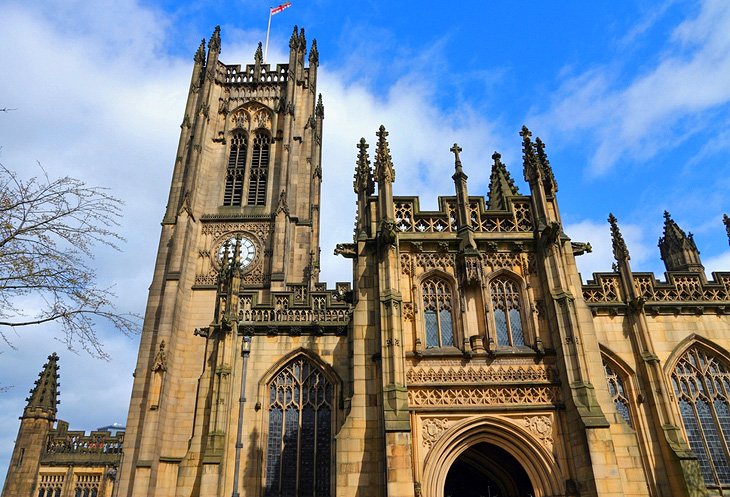 On the banks of the Irwell, Manchester Cathedral dates mostly from 1422 to 1506 and was raised to cathedral status in 1847. The chapels on both sides of the nave and choir were built between 1486 and 1508, with further additions and alterations in almost every subsequent century. Particularly notable are the choir-stalls, with some of the most richly decorated misericords in the country. St John's Chapel is the chapel of the Manchester Regiment, and the little Lady Chapel has a wooden screen dating from 1440. The octagonal chapterhouse, built in 1465, has murals that include a figure of Christ in modern dress.
Location: Victoria St, Manchester
4 Chetham's Hospital and Library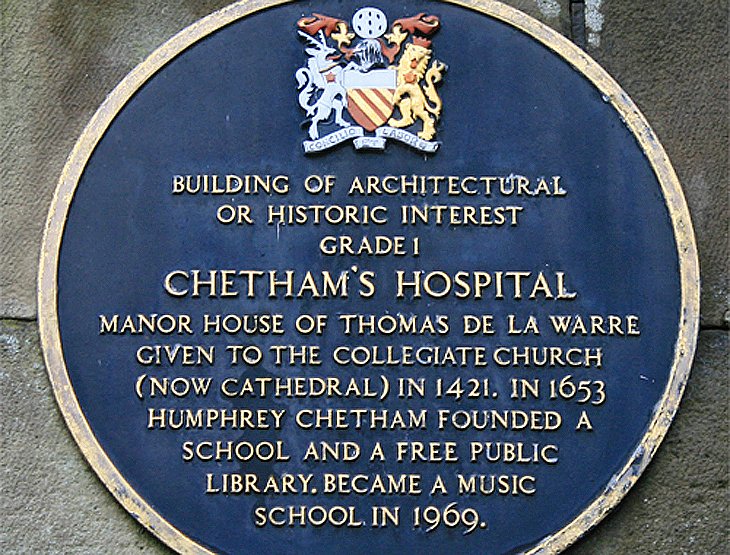 Chetham's Hospital, just north of Manchester Cathedral, dates in part from 1422. Originally a residence for priests, it's now home to a music school and one of the oldest public libraries in England (in continuous use since 1653). Of the more than 100,000 books, more than half were printed before 1850. Chetham's is famous as the meeting place of Karl Marx and Friedrich Engels, during Marx's visit to Manchester.
Other libraries of note are the Manchester Central Library next door to the Town Hall, and the Portico Library. The latter houses the literary collection of Dalton and Joule, founders of the Manchester Literary and Philosophical Society.
Location: Long Millgate, Manchester