P&O New Islington APARTMENT B - Manchester
Manchester Manchester M4, 2 MUNDAY STREET
Luxury
ref. no.: MAN-1B-4P
Discount LAST MINUTE 10% (offer for booking starting today, tomorrow or the day after)
40living space 1nº of rooms 4for persons 0single beds 2double beds
---
Minimum booking in chosen period is 14 days.
Luxury Penthouse Apartment Manchester City Centre - Corporate Accommodation
The STUDIO Apartment:
The open plan kitchen / lounge is cosy and very bright with huge panoramic floor to ceiling windows. A 50 inch Smart TV with complimentary Netflix which you can enjoy to the full. Enjoy uninterrupted streaming and internet use with Ultrafast Hyperoptic broadband. Lounge out on the large sofa or chill in the extra lounge chair. The sofa also converts into a comfy double sofa bed if required.
The kitchen has an undercounter oven with induction hob and a recirculating extractor fan. You will also find a kettle, Nespresso machine, toaster, refrigerator, freezer, pans, dishes, mugs, glasses etc.
There is a beautifully decorated master bedroom, with sumptuous bedding and gorgeous pillows. You will find USB charging facilities at the bedside. There is a wardrobe with hangers available. Wake up and enjoy beautiful views from the floor to ceiling windows overlooking Manchester and views stretching as far as Lancashire.
The apartment is less than 1 minute walk to the nearest Metrolink offering access to all of Manchester. There is no onsite parking but less than 1 minutes walk parking is available from SiP for only £6 per 24hrs (£6.40 if paid for using mobile phone).
The apartment is monitored by 24hr security staff and is fully gated. CCTV covers the whole development and access is via keyfob.
Less than 10minutes walk there is the supermarket ALDI and only a few minutes on the Metrolink you can find ASDA or even the Arndale centre for fresh produce.
The apartment is situated in a friendly residential complex and out of respect for our neighbours we have a strict ban on parties and excessive noise. Any breach of this policy will result in immediate eviction and a £150 fine.
The apartment is in Core 2 on the 8th floor.
4 guests – 1 bed, 1 sofa bed – 1 bathroom
Facilities:
Double bed
Double sofa bed
Large screen smart tv
Netflix
Iron
Ironing board
Washing machine
Dishwasher
Refrigerator
Freezer
Toaster
Kettle
Coffee maker
Hairdryer
Full length mirror
Basic toiletries
First aid kit
Fire extinguisher
Hot water
Heating
Clothes dryer
Walk in shower
Views stretching as far as Lancashire
Ultrafast broadband
Wardrobe with hangers
Dinnerware
Cookware & utensils
Lift
Paid parking off premises
Less than a 1 minute walk to Metrolink station
Next door to Ancoats and still only minutes away from Manchester city centre, New Islington is a visionary scheme to develop not just a place to live but a real and vibrant community . The apartment is next to a tramstop which will take you to anywhere in the city within minutes.
Located near to the northern quarter but directly outside is a tram stop (ne Islington) which will take you anywhere in the city quickly. The property benefits from a secure underground parking space.
Located in a great newly developed area called New Islington next to the famous Manchester Canal and walking distance to the Best area in Manchester The Northern Quarter!
As the commercial and cultural capital of Lancashire, Manchester is a noted center for the arts, media, and higher education. Together with Salford and eight other municipalities it forms the metropolitan county of Greater Manchester, in which some 3 million people now live.
Like Liverpool, Manchester has undergone something of a modern day Renaissance with the introduction of initiatives such as the wide-ranging Castlefield project with its museum complex on Liverpool Road. The extension of the city's entertainment and sports facilities has considerably enhanced its attractiveness for tourists, and the city center has undergone extensive redevelopment. It has also become a favorite for shopping. An enormous range of retail opportunities including the elegant shops of St Anne's Square, King Street and Royal Exchange, and the large covered market halls of Bolton Arcade.
1 Castlefield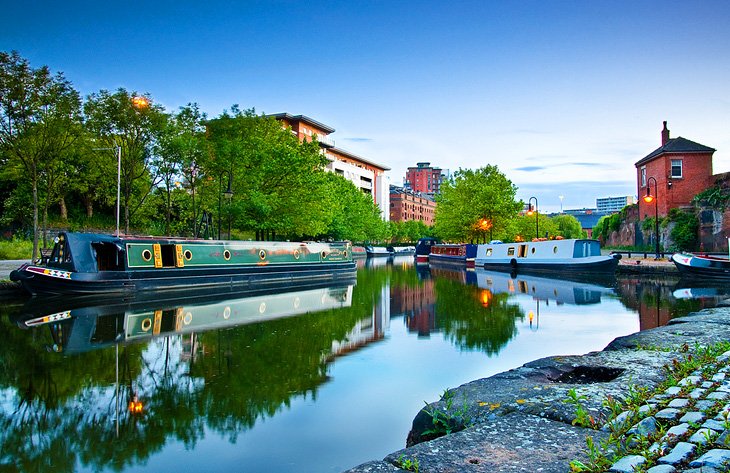 Designated an "Urban Heritage Park", Castlefield lies to the west of Deansgate Station and is an excellent place to begin exploring this great city. A walk among the lovingly restored Victorian houses, along the old canals or through the reconstructed Roman Fort is time well spent. Be sure to explore the Bridgewater Canal, constructed in 1761 to transport coal from the mines at Worsley to Manchester, and the many old warehouses that have been restored and turned into offices, shops, hotels and restaurants. (A trip on one of the Bridgewater tour boats is highly recommended.)
Other interesting attractions include the Castlefield Art Gallery with its exhibitions of contemporary art, and the Bridgewater Hall, home to the Hallé Orchestra and first-class concerts.
Location: Castlefield, Manchester
2 Museum of Science and Industry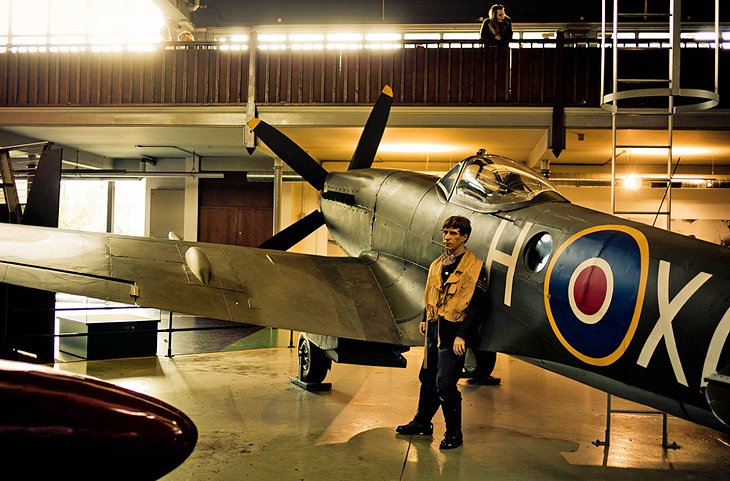 The Museum of Science and Industry (MOSI) is located on the site of the world's oldest railroad station. Its 12 galleries include the Power Hall with its water and steam-driven machines from the golden age of the textile industry, as well as vintage made-in-Manchester cars such as a 1904 Rolls Royce.
The history of the city from Roman times through the Industrial Revolution to the present day is documented in the Station Building. The Air and Space Gallery is another must-see and is home to numerous historic aircraft, including a replica of Triplane 1 by A. V. Roe, the first British plane to successfully fly.
Location: Liverpool Rd, Castlefield, Manchester
3 Manchester Cathedral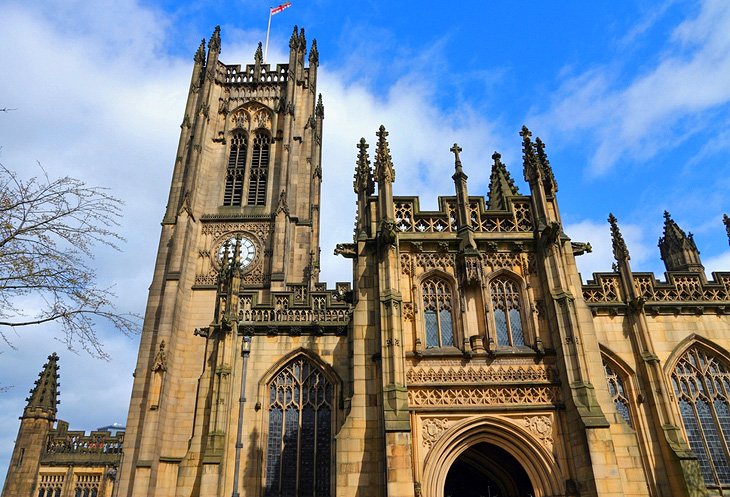 On the banks of the Irwell, Manchester Cathedral dates mostly from 1422 to 1506 and was raised to cathedral status in 1847. The chapels on both sides of the nave and choir were built between 1486 and 1508, with further additions and alterations in almost every subsequent century. Particularly notable are the choir-stalls, with some of the most richly decorated misericords in the country. St John's Chapel is the chapel of the Manchester Regiment, and the little Lady Chapel has a wooden screen dating from 1440. The octagonal chapterhouse, built in 1465, has murals that include a figure of Christ in modern dress.
Location: Victoria St, Manchester
4 Chetham's Hospital and Library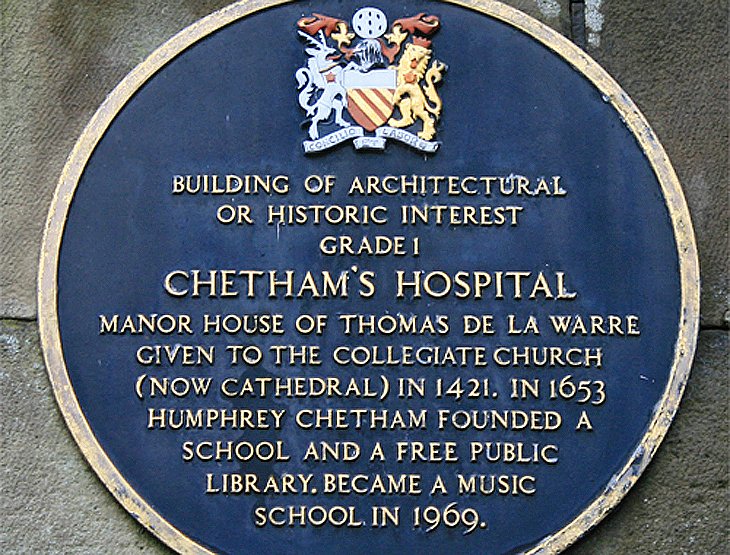 Chetham's Hospital, just north of Manchester Cathedral, dates in part from 1422. Originally a residence for priests, it's now home to a music school and one of the oldest public libraries in England (in continuous use since 1653). Of the more than 100,000 books, more than half were printed before 1850. Chetham's is famous as the meeting place of Karl Marx and Friedrich Engels, during Marx's visit to Manchester.
Other libraries of note are the Manchester Central Library next door to the Town Hall, and the Portico Library. The latter houses the literary collection of Dalton and Joule, founders of the Manchester Literary and Philosophical Society.
Location: Long Millgate, Manchester